Wood Look Tile in Hagerstown, MD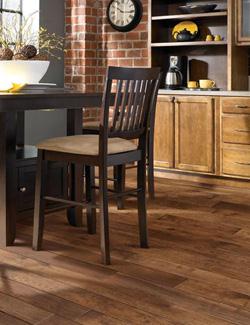 Take your design plan to the next level with flooring that fits your way of life. Visit our flooring center to learn more about the performance and appeal of wood look tile in Hagerstown, MD. Modern homes need smart solutions that give you the look you want and the durability you need. The selection of tile at Burkholder's Flooring America includes products from many of the major manufacturers that you recognize.
It is hard to match the charm of hardwood flooring, but this type of floor covering is not the best choice for rooms with higher levels of moisture. Wood planks expand and contract when exposed to moisture, which can lead to warping and buckling. While hardwood is an excellent option for dining rooms and dens, it reacts very differently in places like bathrooms and kitchens.
There is an alternative that we carry at our expansive flooring store. Our selection includes porcelain and ceramic tile with the look and texture of real wood. Utilizing a photo imaging process, each of these tiles and planks gives you the water resistance you have come to expect, with the charm that only wood can provide.


An Innovative Approach to Interior Design
Tile has been an integral part of interior decoration for centuries. In the hands of a capable contractor, tile can be cut into a broad array of patterns and shapes. As a denser type of tile, porcelain makes a better option for covering walls and outdoor spaces. Our wood look porcelain tile takes every design in a new direction when you consider the durability and resiliency that it affords.


Flooring That Fits Your Life
Our flooring store makes home renovation and commercial decoration even easier for local clients. With a combination of flooring styles, your home can welcome your family and friends. Our selection of ceramic wood tile and porcelain tile, with installation by skilled professionals, can serve you well for years. The water resistance this product provides depends on proper grouting and sealing, so work with a team that specializes in this type of flooring for greater success.



Contact us to start planning your next bathroom renovation with wood look tile. We proudly serve customers in Hagerstown, Smithsburg, Greencastle, Boonsboro, and Waynesboro as well as the surrounding communities.