Water Resistance Flooring in Hagerstown, MD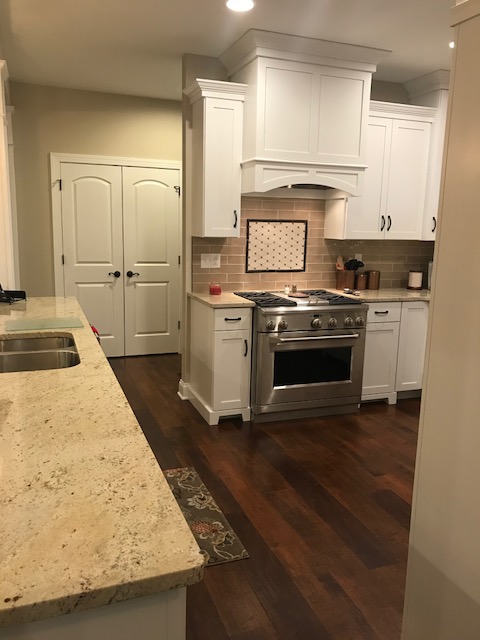 If you head an active household with occupants of every age, spills and stains are all but impossible to avoid. Your busy lifestyle requires floors that meet the challenges of daily living. When the challenges of everyday living with children and pets present themselves, you shouldn't suffer as a result. Accidents and spills are bound to happen, so why not select flooring that easily withstands the effects of water and liquids? Ensure that you're always ready to combat life's messes with confidence no matter what form they take with waterproof flooring in Hagerstown, MD.
A well-designed living space has the flexibility to accommodate a growing family and their inevitable messes. Give your space resilient flooring that stands up strong to everyday messes and will continue to perform throughout the years. Choosing the right type of flooring is ideal for keeping moisture at bay and protecting your home from harmful water damage. When you visit our flooring store to browse our waterproof flooring selection, you'll find an abundance of high-performance materials built with active households in mind. Available in several styles, colors, and textures, you are sure to find a number of suitable choices, including waterproof vinyl flooring, carpet, and luxury vinyl planks.
Come to our flooring showroom to see an abundant assortment of water resistance flooring of all types, styles, colors, and textures. Our affordable, high-quality floors are designed for active households and are available in both carpet and hard surface selection. Simply share your aspirations with our keen sales and design professionals, and we'll be sure to help you find the perfect choice for your home remodeling project. In addition, our skilled specialists are proud to offer waterproof flooring installation to ensure your new selection is laid perfectly into place.
Enjoy the Benefits of Our Waterproof Flooring
Keeping your flooring free from water damage can feel like a never-ending battle when you have children and pets. Even the most cautious homeowners are bound to experience accidents from time to time. When they occur, it's comforting to have waterproof flooring that's capable of withstanding whatever life throws at it. The water-resistant properties of our carpet, vinyl, and vinyl plank selections help them repel moisture, making them an ideal choice for busy households.
Homeowners can take advantage of our fashion-forward waterproof carpet flooring selections. These unique floor coverings help repel stains while also remaining easy to clean. They are even known for dispelling strong household odors from smoke, pets, and more. Available in a wide variety of colors and textures, our water resistance selections offer a comforting softness underfoot, all of the while retaining their exceptional performance. They are ideal for withstanding the daily demands of a busy household and are sure to hold up well for many years to come.
Check out our fashion-forward styles that are as durable as they are appealing. Our waterproof vinyl flooring lends brilliant, breathtaking style to any room it's featured in. Effortlessly withstanding the bumps, scuffs, scrapes, and spills that come with everyday life, this type of flooring is the perfect choice for an active home. The premium choice for style and performance, our water resistance flooring is impervious to cupping or warping. Simply share with us your lifestyle, aesthetic preferences, and budget needs, and we'll provide you with vinyl recommendations from our extensive selection.
Trust Our Team for Waterproof Flooring Installation
Homeowners need not worry about seeking an additional contractor when they turn to our full-service flooring specialists. When you put your needs in the hands of our skilled specialists, you can enjoy a flooring solution laid perfectly into place that continues to stand strong for many years to come. No matter the size and shape of the selected area, you are sure to receive the perfect waterproof flooring selection. At our flooring store, we proudly carry some of the industry's leading names, some of which include:
Mannington--This brand has a reputation for creating floor coverings of the highest quality. With luxury vinyl flooring from this manufacturer, you get beauty and performance in the same products. What makes this waterproof flooring tough enough to take on water and win lies in the construction of its inner core that safeguards these floors from the damage water can do.
Karndean--This gorgeous brand takes its inspiration from wood and stone. The result is flooring that mimics the beauty in nature, adding to the appeal and value of your home. Karndean's vinyl floors have a vinyl backing that does not allow water to pass through, as well as a waterproof adhesive for installation.
Tigressa--Do you prefer carpet flooring in your home? Let us show you waterproof carpet from Tigressa. This fabric flooring has all of the softness, warmth, and beauty you associate with carpeting, plus it resists moisture and stains. An exclusive backing is what keeps water and liquids from soaking through and ruining your carpet.
With waterproof flooring, you can install the style of your choice even in rooms where water is used, such as the kitchen and bathroom. Schedule waterproof flooring installation for the brand of your choice from our skilled technicians and earn flooring that's as attractive as it is functional.

Contact our team to learn more about our various waterproof flooring options. We proudly serve homeowners in Hagerstown, Smithsburg, Greencastle, Boonsboro, Waynesboro, Williamsport, and surrounding areas.