Vinyl Flooring in Hagerstown, MD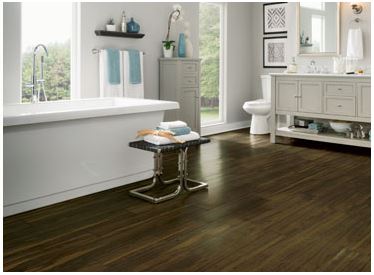 Innovations in floor manufacturing technology have paved the way for flooring that features the look of high-end materials for a significantly lower price. From floors that resemble the texture and unique coloration of hardwood to flooring that mimics the appearance of natural stone, today's vinyl has revolutionized the industry. It has also given homeowners a new alternative for their flooring projects.
With a new vinyl floor, you'll be able to upgrade the look and feel of your entire home with a visit to our showroom. When you take advantage of the best selection of vinyl flooring in Hagerstown, MD, you'll be able to modernize the interior design of your kitchen and bathroom with our cost-effective vinyl sheet flooring. We offer a broad selection of first-rate brands in a wide range of styles, so you'll be sure to find the floors that best suit your needs in looks, performance, and price.

Our floors combine stylish aesthetics with durable performance at guaranteed low prices, which means that you'll never have to compromise or sacrifice quality for affordability. The extensive inventory of our flooring store gives you the opportunity to add a new sense of style and sophistication to your favorite rooms without going over your budget. Burkholder's have been in business for 75 years. Our store has carried on a tradition of excellence and quality by ensuring the highest standard of customer satisfaction for everyone we serve.
From the first moment you enter our showroom, you'll be greeted by one of our staff members. We take into consideration your personal needs for flooring with a consultation to discuss your ideas and goals for your vinyl flooring project. Be sure to stop by our showroom at your earliest convenience to speak with one of our friendly design specialists and find out more about our huge selection of affordable design options. Our goal is that you find shopping for floors with us both enjoyable and easy. You can get any information you need from our knowledgeable flooring specialists.
The Extraordinary Value of Vinyl Sheet Flooring
Get the most out of your home improvement dollar by investing in our vinyl sheet flooring. The vinyl flooring starts at $2.50 per square feet. This option gives you a consistent feel and protects your floors from the dirt and moisture that comes from daily family life. Without the seams of traditional flooring, this option is easier to clean and is designed to look great for many years to come. Find the right vinyl sheet flooring option for your personal taste and budget to get your new floors installed in a snap.
Create a consistent pattern that stretches from wall to wall, and fill your favorite rooms with the colors that you love the most. Regardless of the type or pattern that you choose, our vinyl sheet floors are sure to impress your guests while enhancing the overall look of your interior décor. In fact, our options for these products come in a number of species complete with grain patterns and realistic colors. No one but you will ever know the difference. Save money while still enjoying the luxury you want and choose from our selection of popular name brands:
Mannington
Armstrng
Congoleum
Naturcor H2O
The timeless appearance of tile floors has been sought after for generations, and now you can have this look in your home while making the most out of your renovation budget with our vinyl sheet flooring. This cost-effective option allows you to rejuvenate the feel of any bathroom or kitchen in your home. With the broad selection of colors and patterns that we offer our customers, the only limit to your design plan is your imagination. When you want the modern look of natural stone flooring in your home, but don't have the budget for it, our vinyl sheet flooring is the smart choice. This variety of flooring resembles natural stone and high-end tiles, and is available to match any aesthetic preference. The nearly endless possibilities for patterns allow you to create a distinctive look that is as creative as you choose, so your interior space will reflect your personal taste.
Get the Best Fit with Vinyl Flooring Installation
Protect the investment you have made in new flooring by taking advantage of our professional vinyl flooring installation process. Our focus is on providing you with the best support possible during your home improvement project, so we offer comprehensive service for your makeover. From helping you narrow down your design ideas to a single floor style to installing your new floor, we are dedicated to delivering the complete package for your flooring renovation. By having the right fit for your lifestyle and your living space, you can enjoy the aesthetics you want with the practicality you need. We make it easy and affordable to get the proper installation, so you are sure to avoid the needless repair costs associated with warping and water damage.

The impressive look that our team provides is sure to last and look great for many years to come, giving you the most for your long-term flooring investment. When our certified installers visit your home to provide an installation, you can be confident that your floor will have the perfect fit without costing you more than you need to pay. Simply reach out to our staff for more information about our flooring products and installation services when you have any questions. Whether you already have an idea in mind for the direction of your floor makeover or you're looking for inspiration and advice, you can depend on our showroom as your destination for all of your vinyl flooring needs.

Contact us to learn more about our extensive selection of cost-effective vinyl flooring. We serve clients in Hagerstown, Smithsburg, Greencastle, Boonsboro, Waynesboro, Williamsport, and surrounding areas.