Luxury Vinyl Planks in Hagerstown, MD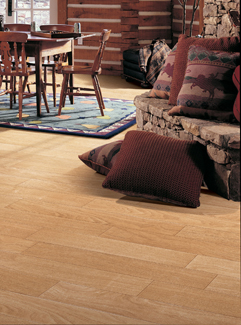 Create an interior for any home or business that looks great for years to come. Our selection of flooring includes a broad array of choices that are both scratch and spill resistant. When you decide to redecorate your home, visit Burkholder's Flooring America and start a conversation with a design specialist that takes the time to listen.
Our selection of luxury vinyl planks in Hagerstown, MD, is hard to match. We separate ourselves from other flooring stores with a combination of focused design assistance and superior installation. You deserve a new floor that will look great for years to come.
Every client that we serve has differing needs, so we give them the latitude they need with price protection guarantees and installation warranties. Our 5-Star Selection System allows the customer to find flooring that fits their budget and their needs.


The Difference between Tiles and Planks
While vinyl tiles crafted to match the appearance of stone goes great in places like the upstairs bathroom, many appreciate the traditional presence of vinyl planks designed to look like various species of wood. Each flooring product performs well in different settings, so having a flooring professional invested in your project makes a great deal of sense.
Our designers consider your entire home when suggesting a vinyl product for a particular room. Your existing home may have plain floors that have faded and warped over time. Choosing the right flooring type for each room can prove difficult without a broad base of knowledge and experience. While hardwood flooring is a great option for the ground floor, finished basements and bathrooms on the upper floors need resilient flooring that hides subfloor imperfections.


Efficient Installation Options
Our selection gives you a broad degree of flexibility when it comes to decorating upper floors. Give your existing home a new lease on life when you hire the right company for luxury vinyl plank floor installation. Vinyl planks won't expand and contract to the degree that traditional hardwood does, so there are no expansion joints needed. You won't be derailed by subfloor imperfections either when you decorate with vinyl plank.
Learn more about the advantages that come with an LVP floor and save time and money in the process. Cover every floor with products from our expansive flooring store and give your home a new lease on life.



Contact us today to start a discussion about luxury vinyl planks with one of our design specialists. We proudly serve customers in Hagerstown, Smithsburg, Greencastle, Boonsboro, and Waynesboro, as well as the surrounding communities.