Luxury Vinyl in Hagerstown, MD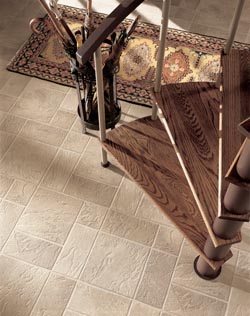 Burkholder's Flooring America is your source for design assistance and stunning luxury vinyl flooring in Hagerstown, MD. We support the customer at every step of the process. Our design team is ready to make sense of all the flooring choices the customer has to choose from, so the experience never becomes overwhelming. We consider the entire home when we identify a series of flooring options that fit your vision and your approach to life.
While laminate flooring is a great flooring choice for high-traffic areas on the upper floors of your residence, luxury vinyl is a better choice for rooms that experience higher levels of moisture. Our flooring store carries an extensive selection of tiles and planks that feature an advanced photo wear layer. The manufacturing process combines the performance of vinyl and the appearance of traditional hardwood, slate, and stone.
Transform any ordinary bathroom or kitchen into a destination with our extensive selection of luxury vinyl flooring products. We carry a number of floor coverings from some of the leading names you know and love. Ask about our 5-Star Selection System and see how this helps the customer get the products and protections they need for their particular home.


Performance and Appeal
Our flooring specialists are ready to identify a product that can withstand the scrapes and spills that come with an active family. While many believe they must sacrifice the look they want for the performance they need, luxury vinyl provides them with both.
When you hire a proven professional for vinyl flooring installation, you get a surface with functionality and appeal. We go the extra mile to ensure your flooring makes life more enjoyable. You won't feel as much strain in your back when you spend all day standing on our vinyl flooring. Each tile and plank offer greater give, and the stunning look is sure to make it all worth it.


Efficient Luxury Vinyl Flooring Installation
Luxury vinyl tile is designed to withstand spills and resist fading for years to come. A properly installed vinyl surface acts as a barrier that protects the subfloor from mold or mildew.
Choose a luxury vinyl plank product that reduces ambient noise throughout your home, and make the installation process a breeze. Newer floors can make a difference when you are putting your home on the market for sale.

Contact us today for supportive design assistance and stunning luxury vinyl flooring. We proudly serve customers in Hagerstown, Smithsburg, Greencastle, Boonsboro, and Waynesboro, as well as the surrounding communities.