Your Source for Commercial Flooring in Hagerstown, MD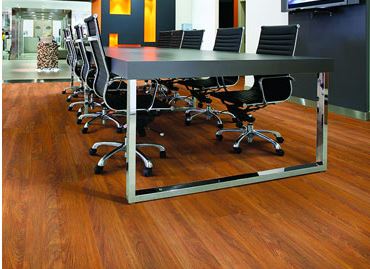 What your business looks like says a lot to your customers and your employees. Make sure you leave them with a good impression by turning to Burkholder's Flooring America. We offer a wide range of commercial flooring in Hagerstown, MD, from durable carpets to water-resistant vinyl. Moreover, we have the expertise to help you select the floor that matches your style and meets your needs.
At our showroom, you'll find a team of professionals ready to help you choose the perfect floors for your office, restaurant, or retail location. We start by talking to you about your work environment and making suggestions according to how much foot traffic there is, what your budget is, and what type of aesthetic you want. We then give you the information you need about relevant products so you can make a confident purchase decision.
Flooring That Serves Your Needs
Are you looking for carpet tiles that dampen the ambient noise of your office? Perhaps you want luxury vinyl tile that is comfortable underfoot and stands up to the spills of a busy kitchen. Whatever type of flooring you desire, you can find it at our showroom.
If you're unsure about which type of commercial flooring would work best in your work environment, we're always here to give recommendations. Our professionals can answer questions about performance and longevity, as well as the benefits that specific brands offer.
Efficient Installation Services
We understand that you don't want a lengthy installation process--after all, you've got work to do. Fortunately, when you work with our commercial flooring installation team, you get quick service that doesn't sacrifice on quality. Our installers know the best methods to install carpet or vinyl composition tiles so you don't have gaps or visible seams.
To ensure you get an installation you can feel good about, we offer a Lifetime Installation Guarantee. We promise that if you ever have an installation-related problem with your floors, we'll make it right at no cost to you.

Contact us today to learn more about our selection of commercial floors. We proudly serve customers throughout Hagerstown, Smithsburg, Greencastle, Boonsboro, Waynesboro, and Williamsport, as well as the surrounding areas.