Luxurious Carpet Flooring in Hagerstown, MD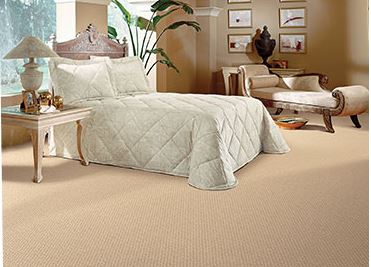 Whether you want to add warmth to your rooms or give your entire home an updated look, our selection of carpet flooring in Hagerstown, MD is sure to meet your needs. With countless options to choose from, we can help you find the ideal flooring for your home in just a single visit.

Carpeting is a plush material, making it perfect for homeowners concerned with comfort. Living rooms, dens, and bedrooms are among the most popular areas for carpet because they are meant for relaxation. In addition, the natural softness of carpet makes it a great home addition for families with small children. It cushions any falls and provides a comfortable surface to play on. Carpet even acts as a sound barrier, muffling the sounds that pass through your home, and provides an extra level of insulation to keep your home comfortable year-round.

Visit us to shop our diverse array of carpet colors, textures, and patterns. Our sales staff members are always on hand to make recommendations based on your design goals, and we are happy to provide you with in-depth information on specific products.
Pick From Numerous Styles for Any Room
Berber carpet styles are among the most popular varieties available due to their unique construction. Their one-of-a-kind loop piles make them incredibly strong and attractive, and their style of weaving makes them more resistant to damage from treading and stains. They also come in many different eye-catching patterns, including "flexed" designs that complete nearly any type of décor.

Worried about your new carpet floors collecting stains? Choose one of our many stain-resistant carpet varieties for greater peace of mind. Due to modern advancements in flooring construction, several manufacturers produce carpets that clean easily and resist stains from drips and spills. With the right care, your surface will look like new for years after installation.
Deep Discounts on Top Carpet Brands
Save big on your home improvement project by taking advantage of our competitive pricing. Thanks to our massive buying power, we offer steep savings on products from trusted manufacturers. We only sell products from companies that we know create gorgeous, long-lasting surfaces. The following carpet brands are currently available at unbeatable prices:
Bedford Mills
Design Distinctions
Downs
Gibraltar
Hearth & Home
Home Craft
Innovia
Resista
Stainmaster
Tigressa
Hire the Experts for Your Carpet Installation
After you've picked out your new surface, the next step is installation. Ensure your new flooring looks its best and lasts a full lifetime by hiring our experts for your carpet installation project. Proper installation is vital to ensuring your floor looks great and stands up well to years of daily wear and tear. Fortunately, you don't have to search for a reliable contractor because we have our own installers on staff. Our installation team is specially certified to work with all of the products we sell. Count on them to give your home a complete makeover.

Once your carpet is installed, it is up to you to keep it in good condition. Speak with our sales associates for expert advice on maintaining your specific product's beauty. In general, most carpets are easy and inexpensive to clean. Vacuum them regularly to remove dirt and debris, and give them an occasional deep cleaning to flush out the particles that get embedded where a vacuum cannot reach. Any stain should be treated as soon as possible with an appropriate cleaner. For more maintenance information, talk to our helpful staff.

Contact us for further information on our wide selection of carpeting products. We proudly serve the communities of Hagerstown, Smithsburg, Greencastle, Boonsboro, Waynesboro, Williamsport, as well as the surrounding areas.