Waterproof Flooring in Hagerstown, MD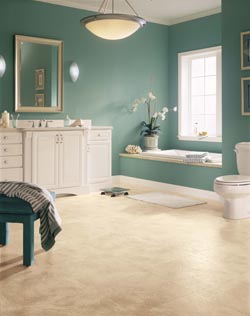 Your busy lifestyle requires floors that meet the challenges of daily living. With children and pets, accidents and spills happen, so why not select flooring that withstands water and liquids? You can when you shop at our well-stocked store for waterproof flooring in Hagerstown, MD.
Come to our flooring showroom to see an abundant assortment of waterproof flooring of all types, styles, colors, and textures. Our affordable and high-quality floors are designed for active household, and are available in both carpet and hard surfaces. In addition, our waterproof vinyl flooring is made to resist moisture. Just ask our friendly sales and design professionals for help with your home remodel.


The Benefits of Waterproof Brands
Homeowners can take advantage of our new waterproof brands that prevent liquids from penetration. These brands feature advanced technology that helps them repel stains while making them easy to clean. They are even known for dispelling strong household odors from smoke, pets, and more. They are ideal for withstanding daily use in a busy household and hold up well for many years to come.
Check out our fashion-forward styles that are as durable as they are appealing. How about waterproof laminate flooring that looks like authentic hardwood or natural stone? Share with us your lifestyle, aesthetic, and budget needs and we come up with recommendations from our extensive selection. Consider the following well-known brands of waterproof flooring:
Mannington--This brand has a reputation for creating floor coverings of the highest quality. With luxury vinyl flooring from this manufacturer, you get beauty and performance in the same products. What makes this flooring tough enough to take on water and win lies in the construction of its inner core that safeguards these floors from the damage water can do.

Karndean--This gorgeous brand takes its inspiration from wood and stone. The result is flooring that mimics the beauty in nature, adding to the appeal and value of your home. Karndean's vinyl floors have a vinyl backing that does not allow water to pass through, as well as waterproof adhesive for installation.

Tigressa--Do you prefer carpet flooring in your home? Let us show you waterproof carpet from Tigressa. This fabric flooring has all the softness, warmth, and beauty you associate with carpeting, plus it resists moisture and stains. An exclusive backing is what keeps water and liquids from soaking through and ruining your carpet.

Triversa--You do not have to worry about installing Triversa's luxury vinyl flooring in any room of your home. That is because this flooring is 100 percent waterproof. Choose flooring with the beauty of hardwood planks, but without its vulnerability to moisture. With waterproof flooring, you can install the style of your choice even in rooms where water is used, such as the kitchen and bathroom. Schedule waterproof flooring installation for the brand of your choice from our skilled technicians.



Contact us now for your free, in-home estimate. Our team is proud to serve customers located throughout Hagerstown, Smithsburg, Greencastle, Boonsboro, and Williamsport, Maryland.